Professional Blogger Templates Free
SEO BLOGGER TEMPLATES
Seo Ready Blogger templates help you get more and more traffic to your blogger blog. Every blogger wants to build a complete blog, and wants to post quality content but publishing quality content is not the only solution to get live traffic from various search engines. At the same time, you should also use well-designed and professional blogger templates. The content of a blogger needs to be structured in a way that meets all the minimum requirements of search engines. Whether it is schema or metadata, everything has to be done correctly. The Blogspot theme also needs to include an approximate number of title and title parameters, so that bots can easily crawl around your site. Also, it must comply with the new requirements of the google search engine, Google has updated its algorithm daily, and that webmaster should also have an updated site, to benefit the most from it.
By using our SEO-ready blogger templates and SEO-friendly blogger themes, you don't have to worry about these things, as our themes meet all the requirements for optimization. These SEO-friendly blogger themes are made up of well-known developers with good SEO practices and some of these themes include pre-loaded privacy functions that easily enhance your SEO optimization blog and allow you to enjoy live free traffic from search engines like google, bing, etc.
Getting a good amount of live traffic with a well-designed SEO blog also helps you make better money. Speaking of the current situation where Google has become very strict about their algorithm and search policies, so having an SEO blog without SEO will not help you in any way. And with the immediate approval of the Google Adsense team, the site should be optimized according to SEO. These themes are fully loaded with various search engine optimization options, whether, well-placed title tags like h1, h2, and h3, or having a custom framework for the search engine, in all respects, most themes are loaded with breadcrumbs verified by s schema .org in line with recent google updates. Also, these themes include options such as auto alt insertion, default title tag add a feature, well-placed post widgets, rated and well-placed value with conditional tags, no idle codes, etc., and verified by google data testing tool So keep checking out some well-designed and advanced Seo Ready Blogger themes.
1: Rapid Blogger Template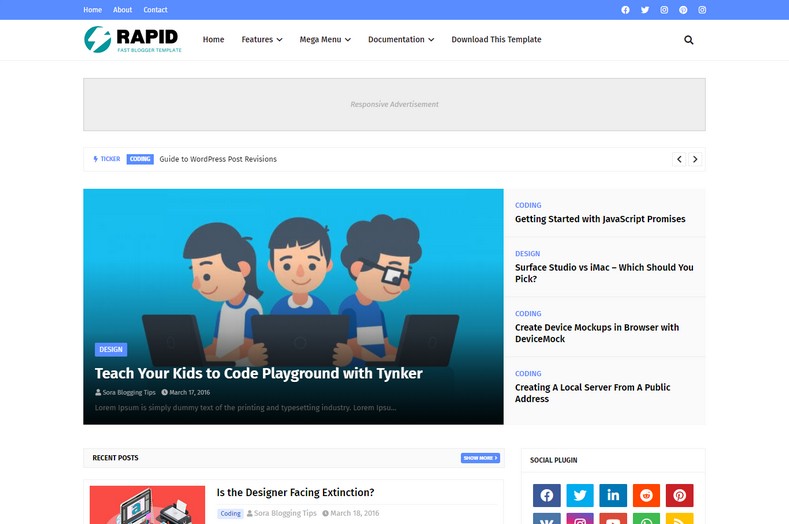 Template Features: